01 Apr

MOFFAT BEACH – SUBURB IN FOCUS

A well kept secret by locals, Moffat Beach is one of the best beaches in the area and rarely visited by tourists, making it the perfect place to enjoy a relaxed coastal lifestyle. Complete with a selection of foreshore reserves and beachfront parks, there's plenty of walking areas and excellent picnic spots for the family, while a handful of cafes and Moffat Beach Brewing Co means you can enjoy meals out without leaving the suburb. Situated approximately two kilometres from Caloundra's city centre, it's moments from main shops and other beautiful beaches, while also being easily accessible to the M1 motorway for city commuters.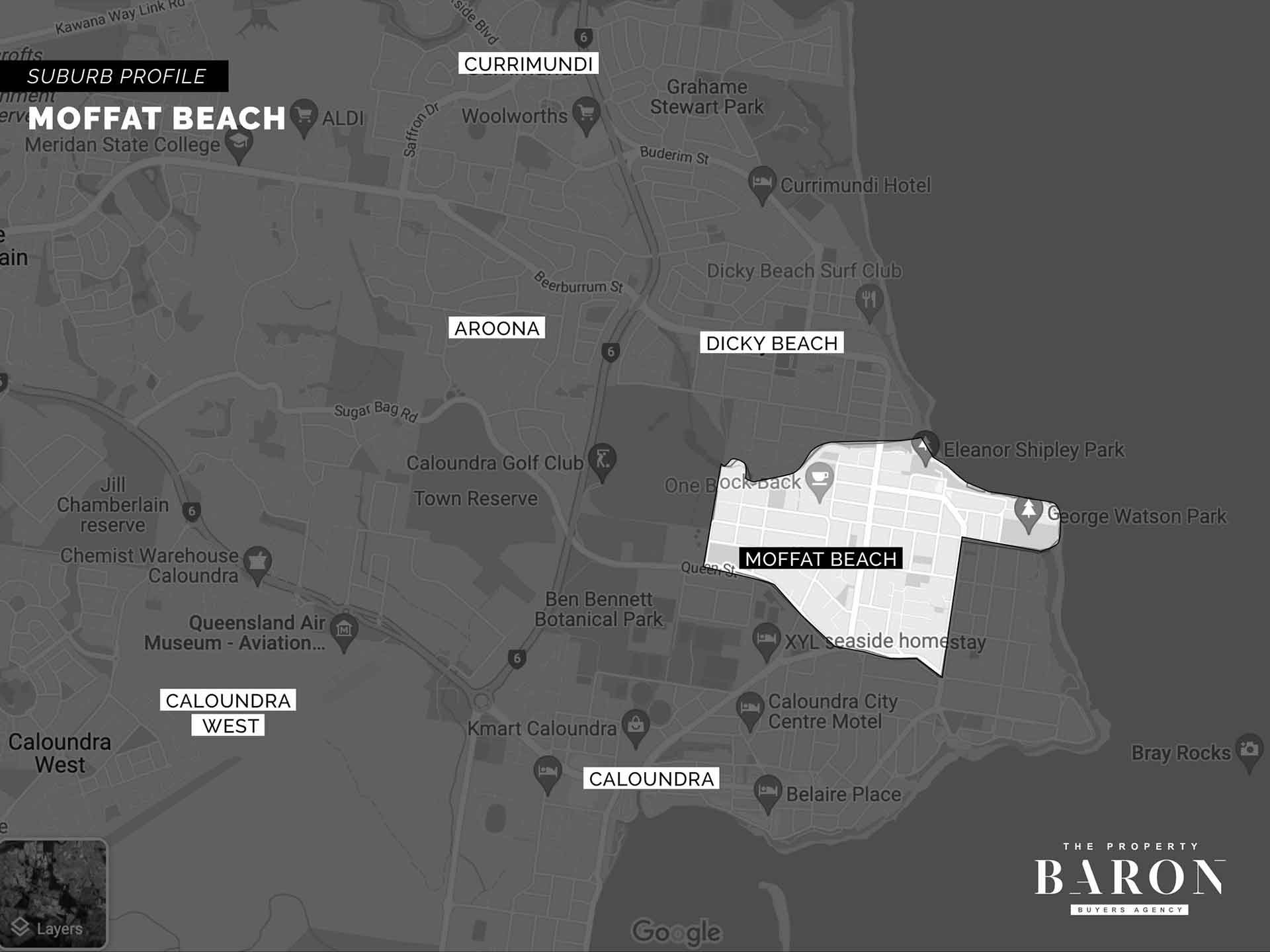 Moffat in a nutshell:
5 year population change: The population of Moffat Beach in 2011 was 2,568 people. By 2016 the population was 2,549 showing a population decline of 0.7% in the area during that time.
Medium house price: $1,205,000
The predominant age group in Moffat: 50-59 years
Owner-occupier 62.0% in 2016
Average length of ownership: 14 years
Size of Moffat Beach:  approximately 1.4 square kilometers
Source: Corelogic  April 2022
Moffat Property Market update
Moffat Beach has 5 properties available for rent and 15 properties for sale. Median property prices over the last year range from $1,250,000 for houses to $800,000 for units. If you are looking for an investment property, consider houses in Moffat Beach rent out for $680 PW with an annual rental yield of 2.8% and units rent for $520 PW with a rental yield of 3.4%. Based on five years of sales, Moffat Beach has seen a compound growth rate of 12.6% for houses and 12.2% for units.
Sources Realestate.com & Core Logic April 2022
Supply and demand in Moffat Beach
Moffat is a high demand market with 1256 visits per property (Compared to an average 768 visits per property in QLD)
Sources Realestate.com & Core Logic April 2022
Moffat Beach was named after James Moffat (a chemist from Brisbane) who purchased a large stretch of land in 1882, before going on to build a holiday home on Moffat Head in 1883. During World War II Moffat Beach had gun emplacements and barbed-wire defences. In 1950 the Dicky Beach surf life-saving club house was built, and members provided part-time patrols at Moffat Beach. Today, Moffat Beach is known for its sought-after surf break and relaxed environment, which is ideal for both everyday living and holidaying.
Homes in Moffat Beach
Moffat Beach's most prominent landmark is the headland, around which a number of holiday apartments are positioned, while further back, you will find a wide variety of properties, with majority of them being free standing homes. Moffat Beach is perfect for anyone seeking a quiet beachside lifestyle, while still being easily accessible to all amenities.
Ready to buy a property in Moffat Beach? Get in touch here
Moffat Beach Demographics
Providing the perfect setting for raising a family or retreating after a long week of work, Moffat Beach is sought-after by families and professionals alike, with retirees and surfers also finding the suburb extremely desirable. Since property demand in the Sunshine Coast is increasing so quickly, interstate and international buyers should consider representation by a Buyer's Agent.
Other Sunshine Coast Locations
If you love Moffat Beach, check out some of those other locations here in the region. As a full-service and fully independent Noosa and Sunshine Coast buyer's agency, we can help you find your dream home or ideal investment property across the coast and hinterland.
Caloundra

Pelican Waters

Bokarina
Insider tips!
Getting to know the neighbours and the neighbourhood will make all the difference in your new home or investment property. Head to our blog or our facebook group for some "insider top tips"
BEST STREETS AND AREAS IN MOFFAT BEACH
Want to get a feel for the area? If you can, do a drive by on these streets to get a real feeling for the Moffat Beach lifestyle: 
Queen of Colonies Parade

Seaview Terrace

Bryce Street
BEST PLACES TO DINE IN MOFFAT BEACH
Moffat Beach has foodies (and caffeine addicts) covered with plenty of options.  Here's our current top picks for eating out in Moffat Beach.
BEST PLACES TO VISIT WITH KIDS IN MOFFAT BEACH
While there are no schools in Moffat Beach, there are plenty of activities to suit the entire family and Caloundra Public School is just moments away.  Here are our top picks to get you started:
Enjoy family walks and bike rides from Kingsford Smith Parade to Moffat Beach Park, then relax by the sand as the children play at Moffat Beach Playground.
Tooway Creek

offers a calm place for small children to swim, while

Moffat Beach

is perfect for surfing.

Moffat Beach Swim School

provides an excellent swim programme for families.
FIND YOUR TRIBE!
Learn all about your new neighbourhood from local council and chat groups.  Get the insider's view on life in Moffat Beach and ask your new neighbours for their local recommendations.  
Sunshine Coast Council https://www.sunshinecoast.qld.gov.au
Locals group: https://www.facebook.com/moffatbeachcaloundra/
Move to the Sunshine Coast group: https://www.facebook.com/groups/movingtothesunhinecoast
SEE WHAT'S HITTING THE MOFFAT BEACH PROPERTY MARKET, WHEN IT HITS (OR BEFORE)!
Since Moffat Beach is a fast-moving property market, a local buyer's agent can help you be in the right place at the right time to secure the right property.  As one of the Sunshine Coast's most reputable property buyer's agents, The Property Baron is your key to securing your ideal property at the best possible price.  The key is knowing the market, and knowing what's coming to market. We believe that the ideal real estate purchase isn't just about that winning bid, it's about assisting our buyers at every stage.  Talk to us now to see just how we can help you.
Be First To Know