24 May

MOOLOOLABA – SUBURB IN FOCUS

Loved by locals and tourists alike, Mooloolaba offers a lively, yet relaxed atmosphere, with the beach on one side and the river on the other. You will find picturesque walkways scattered with fitness enthusiasts and families enjoying some fresh air and soaking in the beautiful surroundings. At Mooloolaba Beach there's a selection of shops, cafes and restaurants set in front of a long stretch of sand, while Mooloolaba wharf offers a tranquil setting for an afternoon drink or relaxed meal.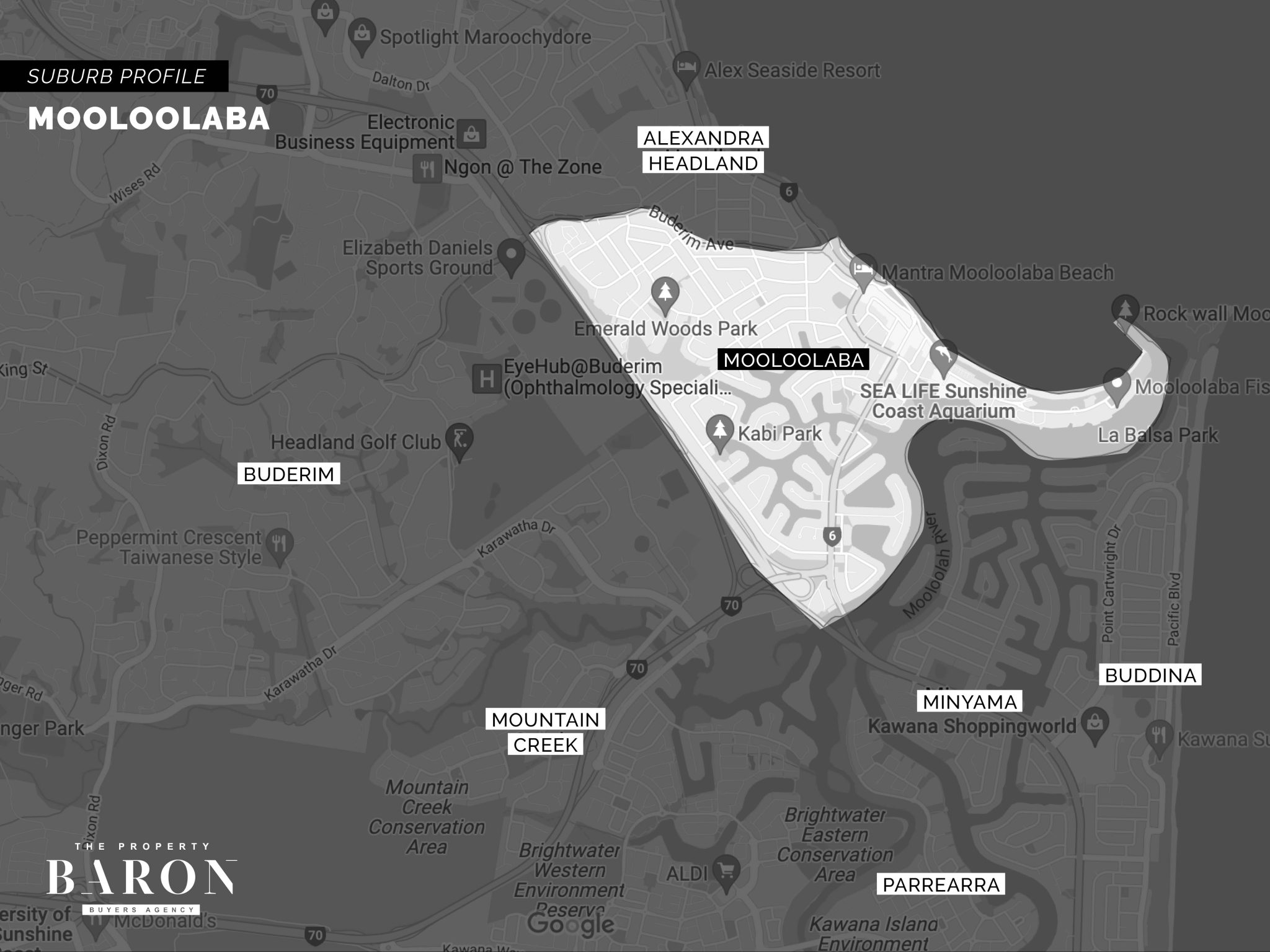 Mooloolaba in a nutshell:
Median house price; $1,500,000 (Source – Core Logic)

Size of Mooloolaba: approximately 4 square kilometers

Average length of ownership: 11 years
Source: Corelogic May 2022
MOOLOOLABA PROPERTY MARKET UPDATE
The median property price is $1,500,000 for houses to $758,000 for units according to Core Logic. 
Realesate.com tells us that Mooloolaba has 11 properties available for rent and 66 properties for sale. If you are looking for an investment property, consider houses in Mooloolaba rent out for $685 PW with an annual rental yield of 2.8% and units rent for $500 PW with a rental yield of 4.1%. Based on five years of sales, Mooloolaba has seen a compound growth rate of 13.7% for houses and 7.8% for units.
Mooloolaba is derived from the Aboriginal word mulu, meaning snapper fish, or mulla meaning Red-bellied Black Snake. Originally known as Mooloolah Heads, the name was changed to Mooloolaba by Thomas O'Connor in 1919 when he subdivided land for sale there. Today, Mooloolaba is internationally known for its white sand, turquoise water and vibrant vibe. 
Homes in Mooloolaba
Apartments and units are common in Mooloolaba, with a number of high rise buildings set beside the beach, while an exclusive selection of larger luxury properties with private jetties can be found alongside the river. Mooloolaba is the perfect location for anyone who enjoys being by the water and dining out.
Register your interest now
MOOLOOLABA DEMOGRAPHICS
Like the majority of the Sunshine Coast, Mooloolaba is sought-after by retirees, families and holiday makers. However, the average age is 43 and there is a high percentage of couples without children living in the area. Since the properties in Mooloolaba tend to move so quickly, interstate and international buyers should consider representation by a Buyer's Agent.
OTHER SUNSHINE COAST LOCATIONS
If you love Mooloolaba, check out some of these other locations here in the region. As a full-service and fully independent Noosa and Sunshine Coast buyer's agency, we can help you find your dream home or ideal investment property across the coast and hinterland.
Alexandra Headland

Buddina
INSIDER TIPS!
Getting to know the neighbours and the neighbourhood will make all the difference in your new home. Head to our blog or our facebook group for some "insider top tips"
https://www.facebook.com/groups/movingtothesunhinecoast
BEST STREETS AND AREAS IN MOOLOOLABA
Want to get a feel for the area? If you can, do a drive by on these streets to get a real feeling for the Mooloolaba lifestyle: 
Mooloolaba Esplanade 

Parkyn Parade all the way to the lighthouse

Brentwood Ave – established suburb

Carwoola Av and Balyarta Av – waterfront properties
BEST PLACES TO DINE IN MOOLOOLABA
Mooloolaba has a strip of bustling beachfront eateries, as well as wharf front bars and restaurants. 
BEST PLACES TO VISIT WITH KIDS IN MOOLOOLABA
Mooloolaba Beach is known as one of the safest beaches on the Sunshine Coast making it perfect for the kids. There's also a wide range of attractions and natural settings to enjoy with the family:
With

boardwalks from Alexandra headland to Mooloolaba spit

, you can easily enjoy family walks, bike rides or picnics.

You will also find a selection of

playgrounds

that are perfect for letting the kids burn off some energy.

If you feel like exploring the area and seeing some of the area's most magnificent homes, then the

Aquaduck

tour is a great experience for the whole family to enjoy.
FIND YOUR TRIBE!
Learn all about your new neighbourhood from local council and chat groups.  Get the insider's view on life in Mooloolaba and ask your new neighbours for their local recommendations.  
Sunshine Coast Council https://www.sunshinecoast.qld.gov.au
Locals group: https://www.facebook.com/mooloolababeach/groups
Move to the Sunshine Coast group:  https://www.facebook.com/groups/movingtothesunhinecoast
SEE WHAT'S HITTING THE MOOLOOLABA PROPERTY MARKET, WHEN IT HITS (OR BEFORE)!
Since Mooloolaba is a fast-moving property market, a local buyer's agent can help you be in the right place at the right time to secure the right property.  As the Sunshine Coast's most reputable property buyer's agents, The Property Baron is your key to securing your ideal property at the best possible price. The key is knowing the market, and knowing what's coming to market. We believe that the ideal real estate purchase isn't just about that winning bid, it's about assisting our buyers at every stage. Talk to us now to see just how we can help you.
Find an agent