08 Mar

COOLUM BEACH – SUBURB IN FOCUS

A picturesque beachside town with a community feel and a relaxed vibe, Coolum Beach is most commonly known for its bustling esplanade and beachfront boardwalk, which reveals stunning outlooks over the white sand and turquoise water. Complete with a choice of quality cafes, a beachfront playground, skate park and surf club, Coolum Beach provides the perfect setting for families or anyone seeking a healthy lifestyle. As Coolum's most reputable property buyer's agent, we've got the inside scoop on what to look for in your new home.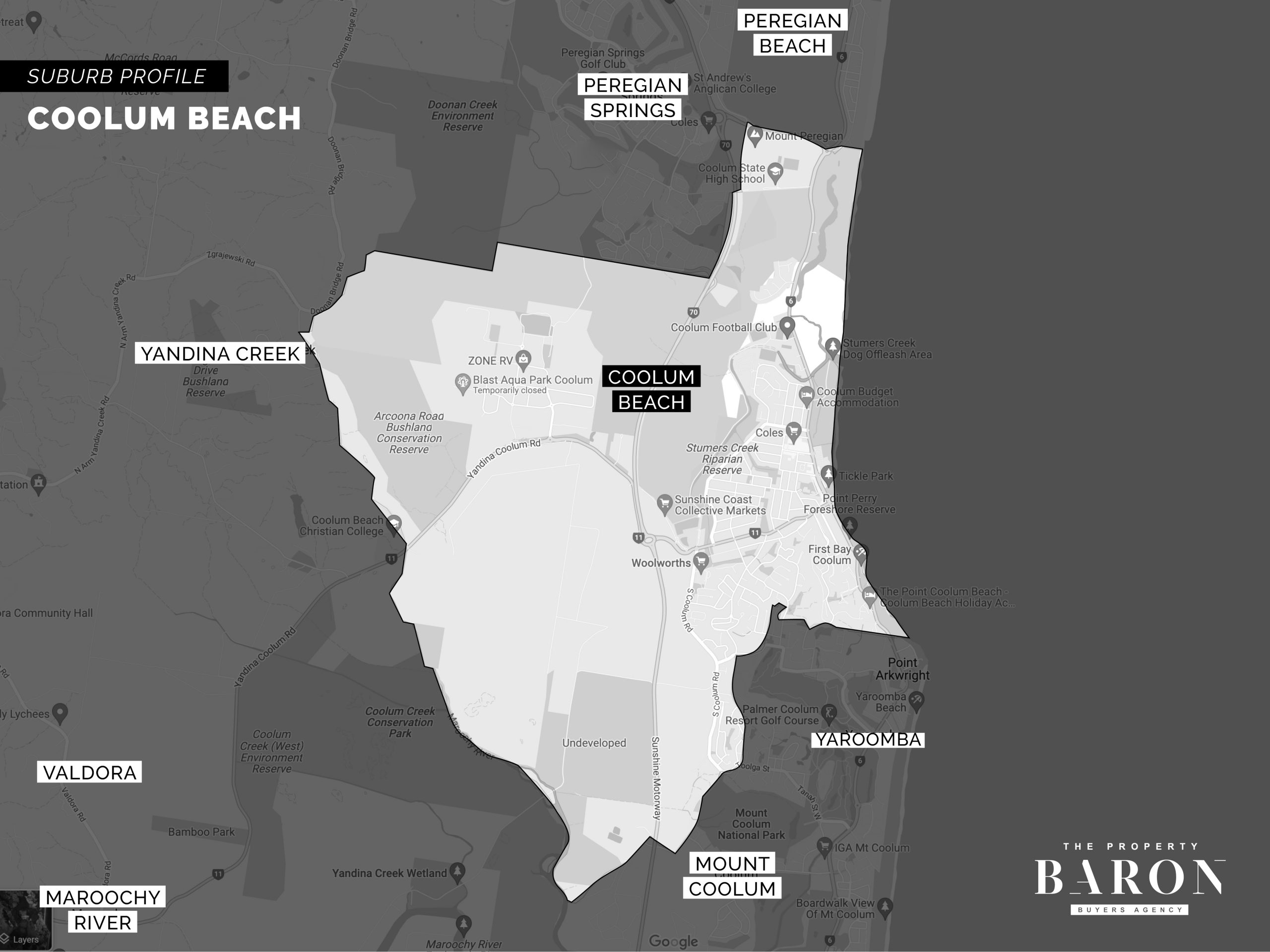 Coolum in a nutshell:
5 year population change: The population of Coolum Beach in 2011 was 7,905 people. By 2016 the population was 8,493 showing a population growth of 7.4%
Medium house price: $1,150,000
Size of Coolum Beach:  approximately 27.3 square kilometers
Source: Corelogic March 2022
Coolum Property Market update
Coolum Beach has 19 properties available for rent and 58 properties for sale. Median property prices over the last year range from $1,150,000 for houses to $710,000 for units. If you are looking for an investment property, consider houses in Coolum Beach rent out for $750 PW with an annual rental yield of 3.3% and units rent for $550 PW with a rental yield of 4.0%.
Sources Realestate.com & Core Logic March 2022
Supply and demand in Coolum Beach
Coolum is a high demand market with 1159 visits per property (Compared to an average 759 visits per property in QLD)
According to Core Logic as of March 2022 the median price for houses has increased by 112% over the last 5 year period.
The origin of the name Coolum appears to be derived from the Aboriginal word "gulum" or "kulum" meaning "blunt" or "headless". This is assumed to refer to the shape of Mount Coolum, which has no peak. According to Aboriginal legend, Ninderry knocked off Coolum's head and it fell into the ocean and is now Mudjimba Island. In the 1820's European sailors passed through the area and Grainger Ward brought cattle to the land. He was also the first to plant sugarcane, which later became a huge industry for the area. In recent years, Coolum Beach has transformed into a popular spot where you will find locals enjoying coffee, walking along the beach, swimming and surfing.
Homes in Coolum Beach
Featuring original Queenslanders through to luxury modern family homes, beachfront apartments and contemporary townhouses, Coolum Beach has options to suit a wide scope of lifestyles. The area also has great schooling options, with Coolum State School, Coolum State High School and Coolum Beach Christian College all close by. Coolum Beach is perfect for nature lovers and anyone wanting to simply enjoy life by the beach. 
Register your interest now
Coolum Beach Demographics
Popular among families, holiday makers and retirees, Coolum Beach provides a quieter setting than some of the other beach towns on the Coast, while still having all the amenities you need. With a huge number of interstate buyers seeking a relaxed lifestyle and wanting more for their money, Coolum Beach is becoming a highly desirable suburb for all demographics. Since property demand in Coolum Beach is increasing so quickly, buyers should consider representation by a Buyer's Agent.
Other Sunshine Coast Locations
If you love Coolum Beach, check out some of those other locations here in the region. As a full-service and fully independent Noosa and Sunshine Coast buyer's agency, we can help you find your dream home or ideal investment property across the coast and hinterland.
Insider tips!
Getting to know the neighbours and the neighbourhood will make all the difference in your new home or investment property. Head to our blog or our facebook group for some "insider top tips"
Did you know 
Coolum Beach has a pocket of streets named after the famous Lord of the Ring books. The streets include Tolkien Place, Frodo Ct, Lorien Ave, Rivendell Dr, Bag End Close, Rohan Rise, Elrond Ct and Entwood Place. 
Best streets and areas  in Coolum Beach
Want to get a feel for the area? If you can, do a drive by on these streets to get a real feeling for the Coolum Beach lifestyle: 
Best Places to Dine in Coolum Beach
Coolum Beach has foodies (and caffeine addicts) covered with plenty of options.  Here's our current top picks for eating out in Coolum.
Best Places to visit with kids in Coolum Beach
Coolum Beach has great schools and plenty of activities to suit the entire family.  Here are our top picks to get you started:
Local Major Sporting Organisations
Find your Tribe!
Learn all about your new neighbourhood from local council and chat groups.  Get the insider's view on life in Noosa and ask your new neighbours for their local recommendations.  
Sunshine Coast Council https://www.sunshinecoast.qld.gov.au
Coolum Locals group: https://www.facebook.com/groups/coolumlocals
Move to the Sunshine Coast group: https://www.facebook.com/groups/movingtothesunhinecoast
See what's hitting the Coolum Beach property market, when it hits (or before)!
Because Coolum Beach is a fast-moving property market, a local buyer's agent can help you be in the right place at the right time to secure the right property.  As Coolum Beach's reputable property buyer's agent, The Property Baron is your key to securing your ideal property at the best possible price.  The key, is knowing the market, and knowing what's coming to market. We believe that the ideal real estate purchase isn't just about that winning bid, it's about assisting our buyers at every stage.  Talk to us now to see just how we can help you.
Be First To Know