14 Jun

PELICAN WATERS – SUBURB IN FOCUS
Pelican Waters For Buyers
An idyllic estate offering premium waterfront living just minutes from Caloundra. Pelican Waters is a highly sought-after area, complete with its own shopping village, a choice of eateries, parks and an 18 hole Golf Course. Set within a world-class environment, Pelican Waters is already one of Queensland's most desirable destinations to live, work and play, with plans for an upcoming Marina and Marina Village development expected to add further appeal for existing residents and potential buyers.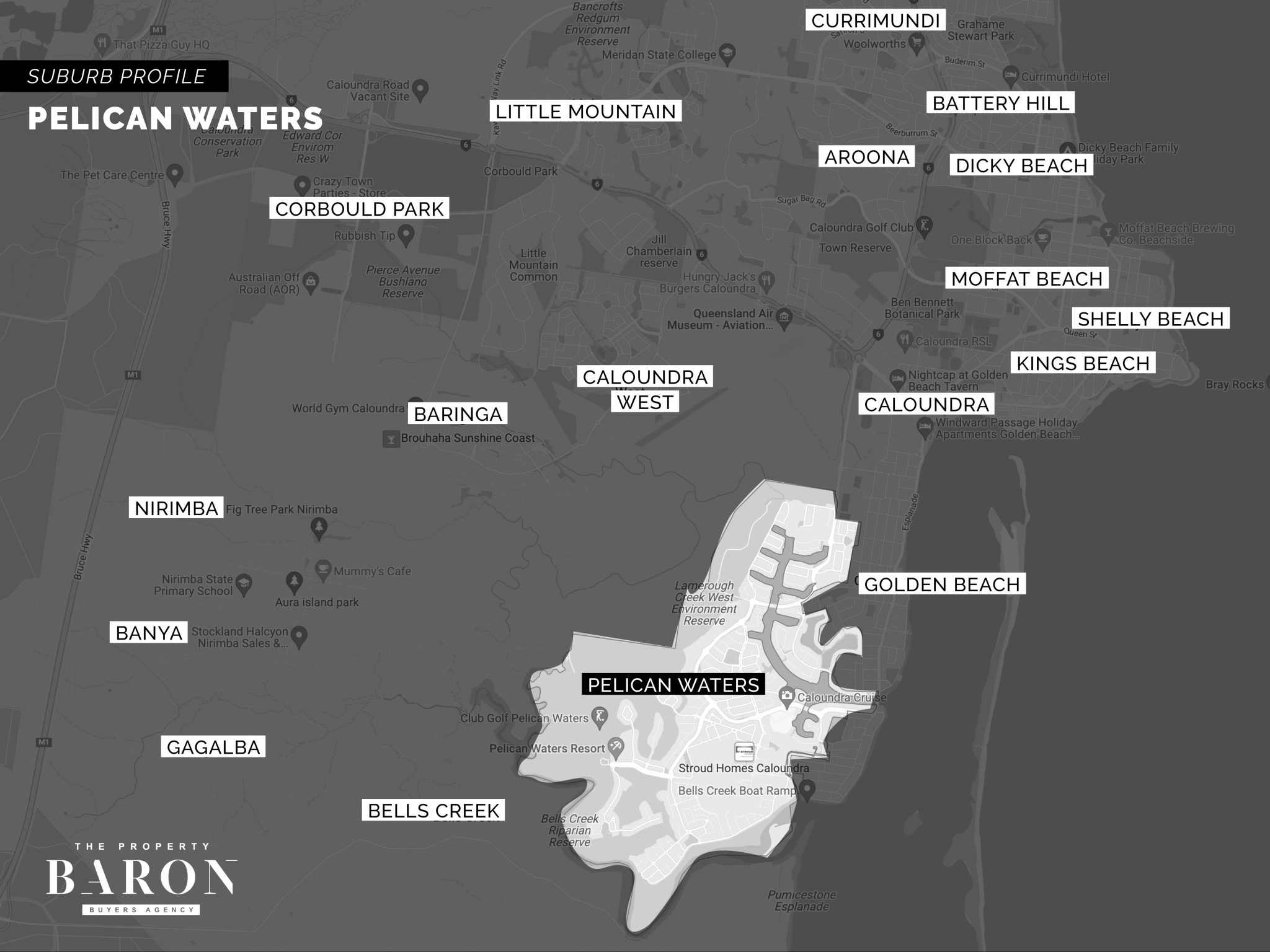 PELICAN WATERS IN A NUTSHELL
Median house price:

$1,356,526

 

Number of dwellings: 2493

Size of Pelican Waters: approximately 8.4 square kilometers

Pelican Waters population: 6278 people(2016)

Average length of ownership: 8 year
Source: Corelogic and abs.com.au June 2022
PROPERTY MARKET UPDATE
Last month Pelican Waters had 17 properties available for rent and 63 properties for sale. If you are looking for an investment property, consider houses in Pelican Waters rent out for $797 PW with an annual rental yield of 4.1% and units rent for $587 PW with a rental yield of 4.0%. Based on five years of sales, Pelican Waters has seen a compound growth rate of 41.9% for houses and 9.8% for units
Source: https://www.realestate.com.au/qld/pelican-waters-4551/
A purposely built estate, Pelican Waters residential community is only 33 years old, with the first blocks of land only being released to the market in 1989. Since then, more than 2,750 home sites have been sold. The estate continues to evolve, with future plans to bring a wealth of exciting new lifestyle, residential, business and investment opportunities to the area.
HOMES IN PELICAN WATERS
With generously sized blocks, including waterfront home sites with direct ocean access, the estate has attracted buyers from all around Australia. The area is particularly sought-after by families for its affordability and close proximity to motorway connections. Majority of the homes here are large, with multiple living zones, exceptional outdoor settings and private swimming pools.
Register your interest now
PELICAN WATERS DEMOGRAPHICS
Pelican Waters provides the perfect setting for raising a family or retiring, with the median age of people in Pelican Waters estimated to be 51 years. With a huge number of interstate buyers seeking a relaxed lifestyle and wanting more for their money, Pelican Waters is becoming a highly desirable suburb for all demographics. Since the properties in Pelican Waters tend to move so quickly, interstate and international buyers should consider representation by a Buyers Agent.
OTHER SUNSHINE COAST LOCATIONS
If you love Pelican Waters, check out some of these other locations here in the region. As a full-service and fully independent Sunshine Coast buyer's agency, we can help you find your dream home or ideal investment property across the coast and hinterland.
INSIDER TIPS!
Getting to know the neighbours and the neighbourhood will make all the difference in your new home or investment property. Head to our blog or our facebook group for some "insider top tips"
https://www.facebook.com/groups/movingtothesunhinecoast
BEST STREETS AND AREAS IN PELICAN WATERS
Want to get a feel for the area? If you can, do a drive by on these streets to get a real feeling for the Pelican Waters lifestyle: 
Pelican Waters Boulevard

Artunga Place

Millennium Circuit

Deepwater Cct
BEST PLACES TO DINE IN PELICAN WATERS
Pelican Waters has its own facilities including shops, schools, child care, medical centres and dining.
Perfectly positioned beside scenic canals,

Pelican Waters Tavern

is a favourite among locals. It offers a relaxed vibe and picturesque setting for enjoying a few drinks or a meal out with friends.

If you're looking for a good coffee and a quick bite to eat, then Bean

There Done That Espresso Bar

is the place to go. 

Set within the

Pelican Waters Resort,

with views over the golf course and resort pools,

Waterlilies Restaurant

is a quality cafe and bistro offering both indoor and outdoor terrace dining options.
BEST PLACES TO VISIT WITH KIDS IN PELICAN WATERS
An ideal place for families, Pelican Waters has a huge number of parks, walking paths and cycling trails for the kids and the young at heart to enjoy. 
Scribbly Gum Park

is a favourite among the kids, with six zones of play, all designed to keep children engaged and help them build their physical, sensory and social skills while they play.

Ranked number 1 public access golf course on the coast in 2019,

Pelican Waters Golf Club

is a great place to teach the kids how to play or sign yourself up and become a regular member.
FIND YOUR TRIBE!
Learn all about your new neighbourhood from local council and chat groups. Get the insider's view on life in Pelican Waters and ask your new neighbours for their local recommendations.  
Sunshine Coast Council https://www.sunshinecoast.qld.gov.au
Locals group: Pelican Waters Community Page
Move to the Sunshine Coast group: https://www.facebook.com/groups/movingtothesunhinecoast
SEE WHAT'S HITTING THE PELICAN WATERS PROPERTY MARKET, WHEN IT HITS (OR BEFORE)!
Since Pelican Waters is a fast-moving property market, a local buyer's agent can help you be in the right place at the right time to secure the right property.  As the Sunshine Coast's most reputable property buyer's agents, The Property Baron is your key to securing your ideal property at the best possible price. The key is knowing the market, and knowing what's coming to market. We believe that the ideal real estate purchase isn't just about that winning bid, it's about assisting our buyers at every stage. Talk to us now to see just how we can help you.
Find an agent